If you are unsatisfied with your website's traffic, the most probable cause is lousy content!
This 10-minute read article will help you improve your writing for the web, assuming you don't want to pay professionals for that.
Good content increases website traffic, entices visitors to stay on it, and converts them into paying customers.
Also, if you decide to hire someone to write for you, you'll be more capable of judging their work.
Having poorly written content will cost you a lot.
Google will not know what the website is about and will not show it in searches.
The website will have low traffic.
Visitors who come will leave quickly, be disappointed, and never come back again.
Google will rank your site even lower, and your potential customers will be lost forever.
You'll get bad reviews.
You'll finish having a useless website that will hurt your brand and business. 
Good and bad content writers - which one is you
Writing for the web isn't easy. Good content writers, no matter the category, are
"good with words",

ego-free (at least while they write),

easy to understand,

trained and educated (formally or informally) for writing,

regular writers (daily).
Over 70% of website owners constantly make one huge, costly mistake. They believe they are good content writers.
They spend a lot of time away from their main job, doing something they are not good at. Or even worse, they hastily write down something and give us to upload on their website.
Being a good lawyer, coach, broker, wholesaler, small business owner, dentist, florist, or insurance agent… doesn't mean you can produce good web content without some guidance.
There are 12 different types of content on the internet.
Website pages (Homepage, About Us/Me, Services, etc.)
Landing pages (Copywriting)
Product descriptions
Blog posts
Manuals & Guides
FAQ and Q&A
Social media posts
Testimonials & reviews
Case studies
Stories
eBooks
News and magazines
Each of the 12 mentioned types requires slightly different skills, but we WILL NOT discuss that. We'll focus on the first six content types and cover them all in one go.
The goal is to show you how to make good content for your website.
Good content writing tips
*13 items recipe when writing for the web*
1. Who is your perfect customer
Whatever you sell, you have no more than five completely different types of customers. Differences are based on:
gender,
education,
economic status,
general interests,
marital status,
the region they were born in, and
where they live now.
Spend some time and classify your customers into 3-5 groups – this will be a good time investment. Give each group a name (Jack, Evelin, Marry, Howard, etc.). While writing, picture them in front of you.
Put photos of unknown people in front of you and start writing as if you were giving them a speech.
Watch the 20-minute video "How to design the perfect buyer persona".
2. Why you are writing - what is your goal
If you don't know the goal of your writing for the web, you won't get anywhere. Your writing will be useless.
Don't confuse goal and wish. You wish for more visitors, leads, and sales.
The goal can be to:
educate
inform
build brand
bring traffic
make shareable post
help visitors choose product
sell product or service
Your goal depends on the reader's position in the buying cycle.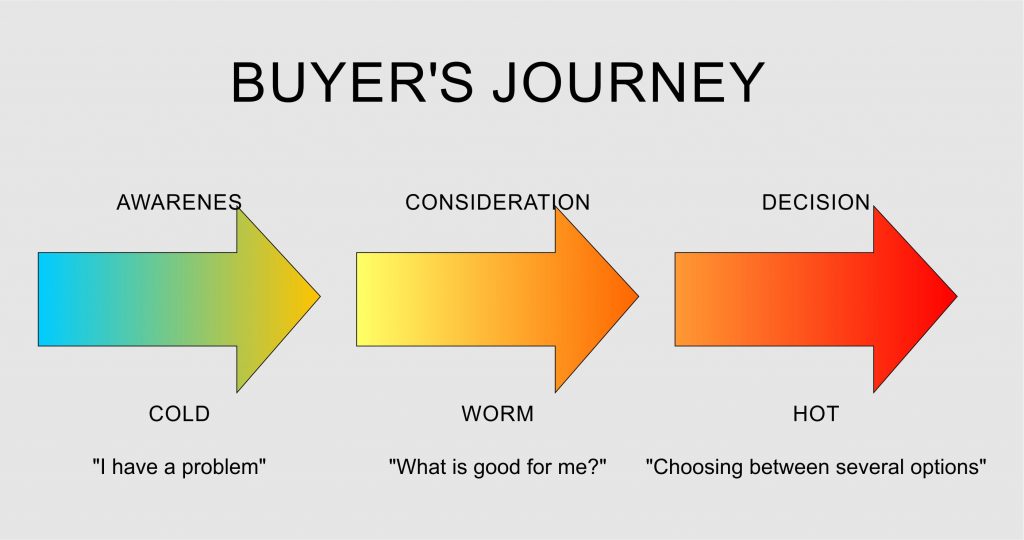 Are you writing for cold visitors, worm, or hot buyers?
You can produce potentially good web content when you answer that question and know your readers.
Also, knowing which phase you are targeting will help you choose the proper keywords.
3. Don't write to reach word count or to sell
When writing for the web, be aware that people behave differently than newspaper or book readers. Their attention span is short. They skim, scan and scroll.
Only 16% of blog post readers read the full article. The rest of us "run" through it.
So, make your content skimmable. Use bold and italic fonts to point out essential parts.
Don't count words attempting to write a longer post, page, or product description than competitors.
Fokus on your reader and selflessly give as much as you feel they need.
If you don't follow this advice, your visitor will get bored and leave the website.
Give your website visitors facts, information, expert opinion, customer reviews, and detailed descriptions.
If you are
selfless,
structure your text as recommended, and
never forget your goal,
you'll be able to produce original, exciting, and worthy content that will rank high on Google.
4. Put your ego to sleep to improve content writing
This part is crucial when you write for the About us page. In our experience, over 90% of website owners who write content for the About us page do it completely wrong.
The About us page shouldn't be about you at all. People don't care how great, intelligent and exceptional you are.
People come to your website to solve a problem. Tell them how your products and services can make them happier, healthier, and more beautiful.
If you can lessen their pain, fear, or insecurity, write about that.
Support your claims with social proof (testimonials, reviews).
Each piece of text you write should answer some of these questions:
Which problem will you solve with your product and service?
How will you make the reader's life better?
Which pain will you lessen?
What are your strengths and skills that can help the reader?
Recommendation:
Have in mind the listed questions before you start writing. When you are in the middle of your work, check if you are still on the topic. Finally, compare the list with the content when you start editing.
5. Write web content in the language of your customers
Internet users won't make an effort to understand something. They leave the website if the web page doesn't resonate with them.
When we say "customer language", we don't mean English, French, or German. Remember your perfect customer – each type has a specific way of communication.
You shouldn't write in the same tone for a banker, baby boomer, or teenager.
If you understand your writing, it doesn't mean your audience does.
Having customers fake photos in front of you will help you write in the way they talk.
If you are unsure what "language" your website visitors use, go to Quora or social media and find out.
Adjust your writing style to your perfect buyer.
6. Content must be original, interesting and useful
When people come to your website, you have up to 3 seconds to get them interested enough to stay.
No matter where they land (Homepage, single product, blog post, etc.), the same rule applies.
You have to hook them instantly—the easiest way to tell them what they'll find below. And continue in that manner.
If your page, post, manual, or product description isn't original, Google will not rank it.
NEVER, NEVER, NEVER copy/paste from others' or duplicate your content. Google sanctions that severely.
Writing something new and exciting is the most challenging item in our recipe.
There is one proven tactic to keep your website visitors glued to a screen:
Write about them and their problems.
Tell your audience how will your product or service help them. How will they benefit, improve, or achieve goals?
Try to hint at what's next when they scroll.
Keep asking yourself if you are giving the visitor what he came for.
Finally, add your experience and thoughts. That is how you'll produce something new and unique. Another benefit is establishing yourself or your business as an expert and a strong brand.
7. Limit the word number in sentences
There shouldn't be more than 10 words in your sentences. Since you aren't an experienced content writer, apply this advice after you finish your writing.
Analyze each sentence. Either try to reduce the number of words or split the sentence into two.
The rule is simple: after 2-3 sentences, press ENTER twice.
Long texts and passages terrify web users. Website visitors will leave (no matter how exciting the content is) if text looks like this:
9. Insert an image after 3-5 paragraphs
User experience (UE) is how your website visitors feel while engaging with content. It's one of the 200 factors Google uses to rank websites.
UE is one of the primary deciding factors on whether the visitor will leave the website or stay and explore.
"A picture is worth a thousand words".
Each of these images below tells a story.
We recommend using both images and text.
Write what you planned and put an adequate image inside the text. After 3-5 (the most) paragraphs, insert an image.
IMPORTANT: don't forget blind people.
They can't see an image. That is one of the reasons to have both text and images.
The second reason is search engines. Google will not know what your content is about without words.
10. Use bulleted lists, not commas
We showed this image to friends and family, asking them to point out which text they would read first.
100% of 28 people of all ages chose the text with bullets.
An easy rule to follow but extremely important:
Use bullets when you list something or have more than three commas in a sentence!
You'll significantly improve user experience and increase visitors' engagement.
11. Edit, edit and edit again
There is numerous definition of editing.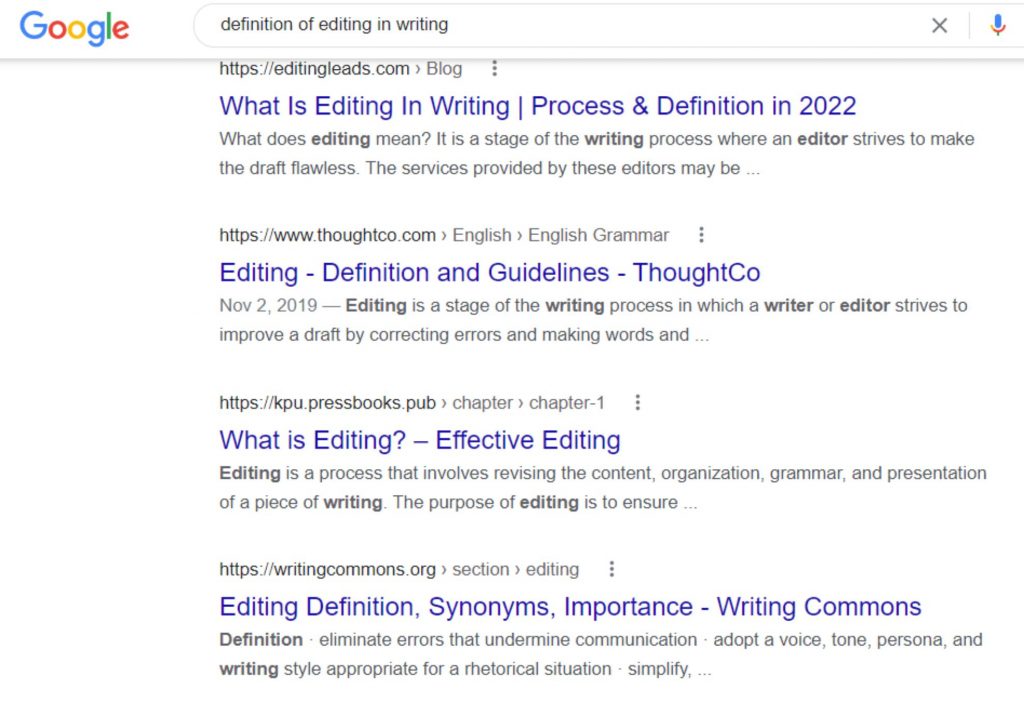 We believe that editing is
reading what you wrote from the perspective of your perfect customer
Implementing all mentioned rules
Do not publish until your content is edited at least twice!
We highly recommend using a professional to edit your texts.
You can find on Fiverr or Upwork freelancers who will do that for small amounts of money.
If you don't want to pay, find a friend or a family member to read your text. Ask them to be severely critical. Write down their remarks.
12. Proofreading - correct writing mistakes
FACTS:
Over 85% of all purchases and future business deals start with internet searches.
You can make the first impression only once.
Your website is your digital ID and the face of your business (and you).
Purchases are based on trust.
Google sanctions web pages with spelling and grammar errors.
Web users sanction websites with poorly written content.
Do you think you will gain trust if your potential customer or a business partner concludes that you are illiterate?
How can they trust you if you are unwilling to invest in your digital face and brand?
Will they walk away (leave you and your website)?
You've spent so much time and effort writing to bring traffic to the website, engage visitors and convert them to customers.
Don't let spelling and grammar destroy your goal.
Invest in Hemingway Editor (a free online editing tool) and Grammarly (free- limited, or premium for $180 annually).
That two software are a must-have for anyone writing for the web.
13. Tips for SEO content writing
Research keywords and choose 3-5 for each web page, post, and product description
Choose the primary keyword
Check what the first three competitors in SERP did do for the chosen primary keyword
Make better content than competitors (more text, images, videos, infographics, etc.)
Don't forget to use the exact primary keyword in the page title, H1 and H2, meta description, and at least one image alt title.
Use other chosen keywords in H2 and H3
Add external and internal links.
If your website is built in WordPress, use the free plugin Rank Math. It will help you optimize your content.
For keyword research and competitor analysis, we recommend Ubersuggest software. There is a very limited free version and a pro option for only a $120 lifetime payment.
We provide a FREE SEO check with improvement recommendations if you are unsure that you can perform on-page SEO.
Depending on who is your target audience and where they are in the buying cycle, there are three types of keywords:
TRANSACTIONAL are for "hot" buyers. Use them for product descriptions or final service offers.
INFORMATIONAL keywords are for "cold" buyers. Use them for blog posts when you want to increase traffic, build trust, establish a brand, and position yourself as an expert.
NAVIGATIONAL are for "worm" visitors. Use them both for product and service descriptions and in blog posts.
The goal of the web page you are writing for will determine which type of keywords you should use.
If you are running an eCommerce website and you write product descriptions by yourself, our Ultimate Guide on How to Write SEO Product Descriptions will greatly help you in your effort. Follow our recommendation, and your products will be on the first Google page.
To help you improve your writing for the web, please download
(no email or subscription is needed, just download, print it, and put it on the wall).
If you are not an expert in writing for the web, then your time might be spent more effectively elsewhere – we strongly suggest hiring professionals.